Numbers.app spreadsheet template for 2018 IRS Form 1040
Soon after Apple first released their Numbers app, I started using it in my tax preparation and uploading my worksheets as a template here. The spreadsheet started with automatically updating tables for the main federal Form 1040, and gradually grew to include some helpers for Schedules A/C/E that I use.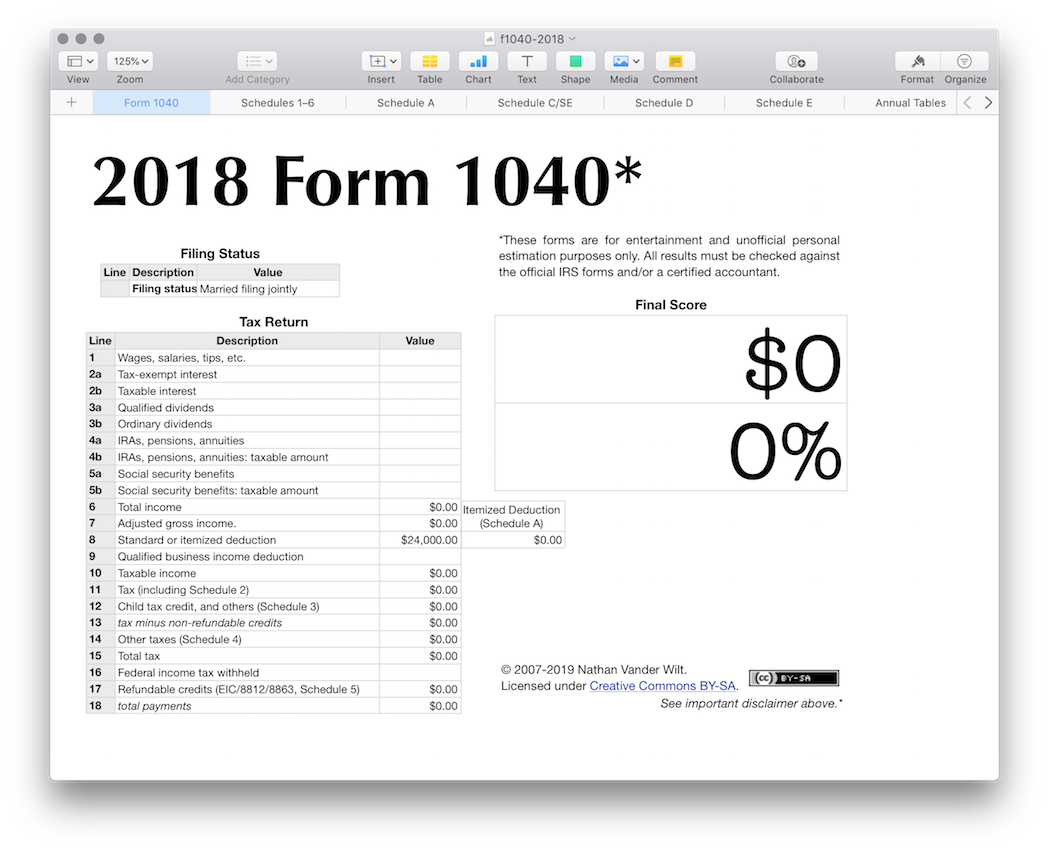 For the 2018 tax year, in order to more effectively trash the planet, there were some tax changes (pdf) as well as some even more gratuitous "changes" to the tax form. Never one to let politics spoil my productivity (← macabre humor there), I did take the opportunity to clean things up a bit. Besides splitting up chunks of the main Form 1040 into Schedules 1–6, I started getting the Schedules A/C/E more fully aligned with the actual forms.
---
UPDATE: posted a new version with some important corrections, and some other potentially-useful additions.
Download: f1040-2018 Numbers template
License: CC BY-NC 4.0
---
Please let me know if you find this helpful and/or do discover any issues with the calculations or annual data.
Posts for previous years for background: 2014 2013 2012 2011 [skipped 2010] 2009 2008
(Also I'll mention that if for some reason you have use for a template from 2015–2017, I did keep updating the 2014 version for my own use but neglected to post the revisions [see "macabre humor" regarding productivity above]. One of those years may have been when I filed for an extension and didn't end up finishing until October 15th — not recommended, nope, no, never again…!)