Last week I launched an early preview of the data that's been rolling out over at Argyle Tiles. There's a good portion of the global coverage already in place, as well as a single-city sample of what I'll be able to provide in most US urban areas. You can check it out via the signup page.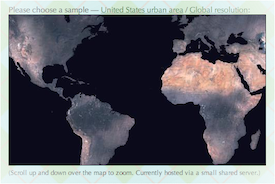 I have been prioritizing client work over this speculative venture, but I've also been outsourcing some of the tiles work to make sure the ball keeps rolling even while I'm meeting my other commitments. The list currently looks something like this:
finish generating and clean up some global coverage issues (Finland spot, coastline resolution)
start adding basic coverage for the whole Continental US
beta launch: provide API keys and documentation for early customers
begin processing more popular high-resolution urban areas
I'd love to hear what you think, and would also be grateful for any more leads — if you know developers who could benefit from the service in its beta, please send them over.