Spring is here, and with it the wind and my balloon mapping kit!
Probably not the best combo, but dealing with a bit of gusty weather is just one of many things I'll need to learn more about.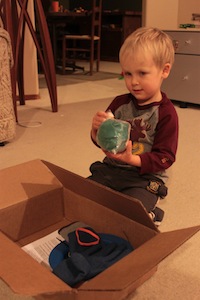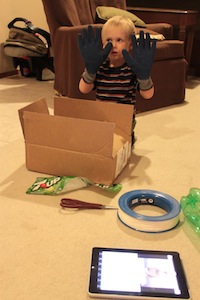 I'd long been interested in messing about with something like Kite Aerial Photography to gather public domain orthoimagery. I never quite could believe that a kite would be very convenient for the task though. A big balloon seemed like a better idea, but I wasn't really sure exactly if or how to best accomplish that.
I also have a tendency to collect tools and instruments and spare parts for all sort of intended hobbies, but then they always end up on the back burner. Sitting at my desk or on the couch working on the big "make software better" project is about the only hobby that's been truly habit-forming, so I've mostly learned to avoid "investing" in gadget acquisition syndrome elsewhere. So long as my laptop stays running, I've got all the workbench I actually use. At least…until the kids are old enough to appreciate other hobbies — I've been telling myself to leverage procrastination talent against my microeconomic weakness.
Well two-and-a-half years old is enough to appreciate a big colorful helium balloon, eh? I jumped on the recent "balloon kit" Kickstarter campaign to kickstart a hobby that will require spending sunny Saturdays outside in the fresh air.
I'm still not entirely sure how to "accomplish" balloon mapping, but I've got a basic start on rigging up a camera and have already started pestering the local industrial gas supplier with newbish questions concerning just how I might fill our first airship with helium.

More details as this story develops!